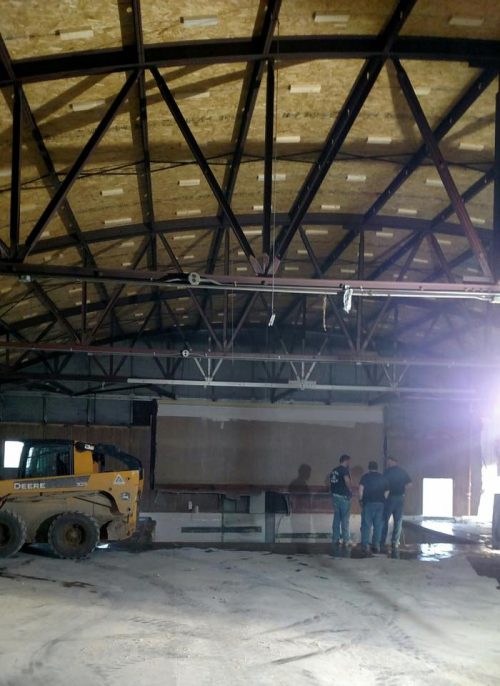 Multi-phase renovation project at Jr. Fair Building
Van Wert County Fairgrounds releases renovations update
Multi-phase improvements to the Jr. Fair Building will better serve residents and fair-goers
Van Wert, OH – If you have driven down South Washington Street recently you may have noticed a flurry of activity at the Jr. Fair Building on the Van Wert County Fairgrounds over the past several months.
The multi-phase Jr. Fair Building remodeling project began in November 2016 with Phase 1 being a new roof.  Phase 2 improvements have created a dramatic renovation of the interior of the facility.  The removal of the drop ceiling has unveiled rustic, industrial beam work creating an open feel.  The most dramatic change is the removal of the stage area.  Installation of central air will make the venue a perfect location for warm weather events from wedding receptions to vendor shows.  Once the renovation is complete the Jr. Fair Building will be one of the largest air-conditioned rental venues in Van Wert County.
Funding for this multi-phase project was provided in part by The John D. and Nellie S. Ault Memorial Fund which is an endowment created to support farming as a way of life, and for the well-being of the people of Van Wert County. The John D. and Nellie S. Ault Memorial Fund is a trust of The Van Wert County Foundation.
"VWCF is honored to carry out the wishes of The Ault Memorial Fund in support of local agriculture and improving Van Wert County.  We are proud to work with The Van Wert Ag Society to make a collective impact on the fairgrounds through these improvements.", stated Seth Baker, Executive Secretary of The Van Wert County Foundation.
Along with part of the proceeds from the reversal raffle, held back in March, going towards this phase of the project, additional funding was obtained through a matching grant from the Ohio Department of Agriculture with a match from Farm Focus and the Van Wert County Commissioners.
The Fair Board Directors, Auxiliary & Volunteers have already put in countless hours on this project & much more will be to come, as we work towards an early June completion date.