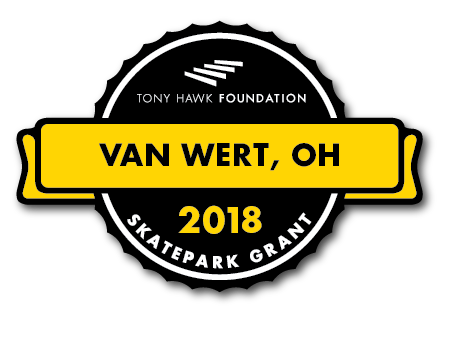 Franklin Park's skatepark receives grant funding from the Tony Hawk Foundation
March 27, 2018  –
 In recognition of the ambition and work the Van Wert community has done to achieve Franklin Park, the Tony Hawk Foundation recently awarded The Van Wert County Foundation – Franklin Park skatepark project $5,000—in the foundation's latest round of grants.
 A charitable, non-profit organization, the Tony Hawk Foundation was established in 2002 by its namesake, professional skateboarder Tony Hawk. THF promotes and provides technical assistance and funds for high-quality public skateparks in low-income areas throughout the United States that promote healthy, active lifestyles, and to International programs that enrich the lives of youth through skateboarding.
 In 2015, efforts to create a public park at the location of the former Franklin Elementary School began in earnest. It took a group of community leaders to begin the process and to articulate a true vision for the build. Site grading, new curbs, sidewalks, and underground utilities were installed in 2016. Construction of phase two in 2017 included playgrounds, a splash pad, a pavilion, and the addition of site amenities and trees.
 After completing some of the preliminary design work, The Van Wert County Foundation applied for the THF grant. Franklin Park's skatepark is designed by Spohn Ranch. Spohn Ranch is a skatepark design and construction firm based in Industry, California. The firm specializes in the construction and design of concrete skateparks and skate plazas, skateable art sculptures, several styles of ramps, and courses for skateboarding, BMX and motocross events. Construction of the skate park will begin in May, with full completion of Franklin Park, including a basketball court and double pickleball court slated for the end of June 2018.
"This award is already generating so much excitement throughout the community and surrounding area," said Amanda Miller, VWCF Marketing & Resource Development Manager. "People want to see things happen. The THF grant is definitely a big deal! It's awesome to have Van Wert on the list of skateparks associated with the Tony Hawk Foundation."
 Many other skateparks received grants from THF throughout the US. While each project is unique to its community, they all address the universal need for safe, sanctioned spaces for youth to skate and be with like-minded individuals who share a love for skateboarding.